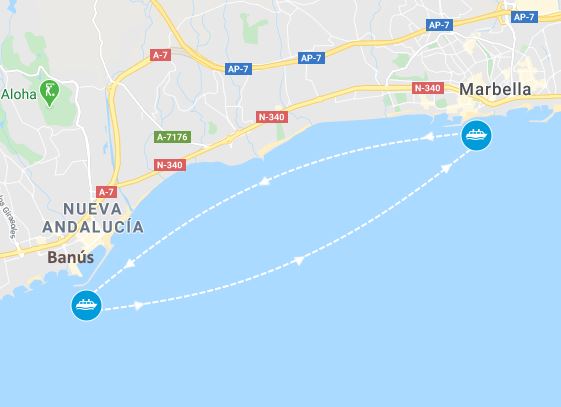 Since 2000 Fly Blue - Gran Catamarán © has been linking Puerto Banús with the centre of the city of Marbella
Enjoy the views of the Marbellí coast from one of our Giant Catamarans. The first trip is at 10:30 from Marbella and at 11:00 from Banus, and so we continue every hour until 18:30 and 19:00 respectively.
Our catamarans have seats for everyone, toilets, hard-top on the upper deck and nets on the bow for sunbathing while sailing.
We have an extensive bar service on board. A meeting place, a shaded recreation area where we offer the possibility to enjoy a refreshment and a wide range of bar products. The whole day offer includes drinks and snacks at good prices.
Times and departures are subject to change without notice - Adults: 12 years and over. Children: 3 to 11 years old. Children under 3 years free.
Ferry and Catamaran Tours
Fly Blue Ferry, motor and sailing catamarans that connect in mid and high season the route between Marbella and Puerto Banus, with a duration of 30 minutes.
The panoramic views along the way along the Marbellí coast are spectacular, notably La Concha Mountain and the King of Saudi Arabia's Summer Palace, visible only from the sea.
Daily service from March to November, being able to make the outward journey and return in any later trip.
Departures every hour on the dot, starting at 11:00 and sailing the last departure at 19:00.
Departures after 3o minutes of each hour, starting at 10:30 and the last departure at 18:30.